5 Day Eating Plan - Total £1.00 A Day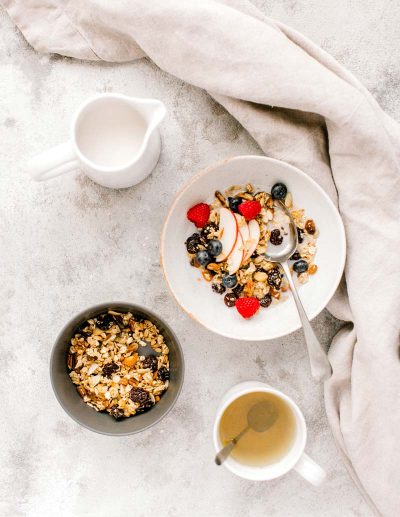 Live Below the Line Recipes
5 Day Eating Plan – Total £1.00 a Day!
Six years ago, I designed the following recipes for Live Below the Line. This is an innovative awareness and fundraising campaign that challenges people to live on £1 a day for 5 days for all their food and drink. The idea is to provide a glimpse of what it's like to live in extreme poverty, and to gain an understanding of the heart-breaking decisions some of the world's poorest people face every day.
Below is a list of recipes I created for my 5-day challenge. Please try them, they are all delicious and nutritious. Grains, beans, vegetables, fruits, nuts and seeds could feed the world. There would be no more of our brothers and sisters starving to death, wouldn't that be a great joy? I am once again going to shop with £5 and see what I can replicate this time round.
Daily Breakfast for Five Days
Breakfast Porridge
(Short grain brown rice) (10 X PORTIONS) 5 for breakfast – 5 for dinner
500-gram pack £1.29 – (I found this superb purchase in my local Asian market).
This is the king of grains delivering the largest diversity of nutrients; Of the three macronutrients (carbohydrates, protein and fat) carbohydrates are needed in the largest amounts. This is the reason why I have chosen to have wholegrain morning and evening to keep my energy levels up. As I will be eating less food than I normally would for 5 days it's the perfect choice.
Here are seven reasons complex carbohydrates have such superstar status.
They are the main source of fuel for your body
They are burned most efficiently as a fuel source
They are required by your central nervous system, brain, (your brain runs almost entirely on glucose and can't use fat or protein for its energy needs) muscles (including your heart), and kidneys
They provide glucose to all of your body's cells and tissues for energy
They can be stored in your liver and muscles for future energy needs
They can be found in whole grains, grain products, beans, vegetables, sea vegetables, fruits, nuts and seeds.
Recipe for Pressure Cooked Wholegrain
500g short grain brown rice (rinsed and soaked overnight)
Pinch sea salt
Water
Discard the soaking water. Place the rice in a pressure cooker and add 5 cups of water and a pinch of sea salt. Bring to full pressure then reduce flame and cook for 25 minutes. Remove from the heat and let the rice continue to cook for a further 25 minutes. Remove the lid, place the rice in a glass container and store in the refrigerator for 4 or 5 days. Obviously if a pressure cooker is not an item you have, simply follow the instructions and cook in a normal pot. To make your breakfast porridge, simply split your rice into 10 portions. Take one portion for breakfast, place in a pot and add some water, simmer for 5 minutes to make a creamy consistency and sprinkle with sunflower and pumpkin seeds.
My Breakfast Porridge
50g cooked brown rice 12p
Tbsp sunflower seeds 3p
Tbsp pumpkin seeds 3p
Cup hot water with slice of lemon1p
TOTAL DAILY SPENT ON BREAKFAST 19p
Lunch Days One & Two
Green Soup
Nutrient Dense Soups pack a powerful punch at lunchtime. Here are my two favourites that I used over the 5 days. Green foods are rich in chlorophyll AND they have a relaxing effect on the liver.
½ vegetable stock cube 4p
3 cups filtered water 0p
1 leek finely chopped 20p
3 green beans chopped 5p
½ courgette finely chopped 10p
1 stalk celery chopped 5p
1 onion diced 10p
1 tablespoon crushed garlic 3p
Small handful of chopped parsley 3p
Juice from fresh ginger root 3p
Toasted Flaked Almonds 1p
Mix the stock cube in 3 cups of warm water and place in a soup pot along with the chopped vegetables. Bring to a boil and simmer for 15-20 minutes until vegetables are soft.
Using a hand blender, or upright blender, blend until creamy adding water as needed to create the required consistency. Grate some fresh ginger and squeeze the juice into the soup, approximately one tablespoon. Top with some toasted flaked almonds.
TOTAL FOR GREEN SOUP 64p divided x 2 = 32p per portion
I purchased a bag of dessert apples (6 in the bag for £1) daily apple16p
The green soup above served me for two days lunches' i.e. 32p
TOTAL SPENT ON LUNCH– Monday and Tuesday (EACH) 48p
Lunch Days Three, Four, & Five
Roasted Squash, Sweet Potato & Garlic Soup
4 cups filtered water 0p
1 stock cube 7p
1 sweet potato (Asian market) 12p
1 butternut squash 54p
4-5 cloves garlic 12p
1 large onion, finely diced 10p
Parsley for garnish 2p
Pre-heat the oven to 190C/375F. Mix the stock cube with 4 cups of boiling water from the kettle and set aside. Cut the sweet potato and squash in half lengthways. Sprinkle the cut sides with a little sea salt. Place the vegetables cut side-down in a shallow roasting tin. Add the garlic cloves (in their paper). Place in the centre of the oven for about 40 minutes or until the vegetables are tender.
When cool, scoop out the flesh from the potato and squash, peel the garlic and add the cloves to a saucepan with the stock along with the vegetables and the diced onion. Bring to a boil, covered and simmer for 30 minutes, stirring occasionally. Using a hand blender, puree until smooth. Ladle into warm bowls and garnish with some parsley.
TOTAL SPEND FOR SOUP FOR THREE DAYS £1.00 = 33p per portion
Apple 16p Total for Lunch Wednesday, Thursday & Friday - 49p
And So, To Dinner!
I used the short grain brown rice as the main staple for my evening meal and built vegetables and beans around that. I purchased a large bunch of spring greens for £1 and used some leaves every night at dinner.
Evening Meal Day 1 - Red Lentil Stew
3 cups water 0p
50g red lentils 10p
½ onion, finely diced 5p
1 carrot cut into rounds 2p
2 large leaves of spring greens 5p
Zest and juice of ¼ lemon 4p
1 tablespoon miso paste 6p
TOTAL SPEND ON DINNER 33p
Heat a splash or two of water in a pot over medium heat. Sauté the onion for 1 to 2 minutes or until translucent, add the greens, then the carrot, cooking for a few more minutes. Add the lentils and the lemon juice and zest.
Bring to a boil over medium-high heat. Reduce heat to medium-low and cook for 20 minutes. When the lentils are soft, add the miso, mix well and turn off the heat. Serve garnished with chopped parsley if desired.
*Legumes are a class of vegetables that include lentils, peas, and beans. Common types of lentils include all dals, mung dal, toor dal, masoor dal. Beans – Chickpeas, kidney beans, pinto beans, black-eyed peas, adzuki beans, black turtle beans, etc.
Pulses and lentils are the ripe edible seeds of a wide range of pod-bearing leguminous plants. They are high in fibre and will help you feel fuller longer. Lentils are great as they have the power to really satisfy your hunger without packing your body with loads of calories and fat – that's often why lentils feature heavily as a meat substitute – they can make you feel like you've had a meaty dish minus the calories and saturated fat that come with eating meat. Again, like celery, lentils are full of fibre and folate so as well as giving you the full feeling, they are great for digestion and healthy cell growth.
Evening Meal Day Two
Spring Green Bean Burritos
50g cooked brown rice 12p
1 clove crushed garlic 3p
½ onion cut in half moons 5p
50g kidney beans (cooked) 5p
Splash of natural soya sauce 2p
2 large leaves of spring greens (steamed whole) 5p
Heat a wok or heavy based pan and warm a splash or two of water. Add the garlic and sliced onion and sauté for a few minutes until the onion is translucent. Add the cooked kidney beans and a good splash of natural soya sauce and mix well. Pop on the lid and let cook for 5 minutes. Meanwhile steam the two large spring green leaves until bright green and slightly tender.
Remove the lid from the sauté pan and mash the bean mixture with a heavy based spoon. Lay the spring greens flat and split the mixture between them both. Roll them into a cigar shape and enjoy.
TOTAL SPEND ON DINNER 33p
Evening Meal Day Three
Brown Rice Stir Fry with Garlic and Ginger served on a Bed of Steamed Greens topped with spring onions
50g cooked brown rice 15p
1 carrot cut julienne style 2p
1 clove crushed garlic 3p
1 x 1-inch piece of fresh ginger, finely diced 2p
2 large leaves of spring greens, thinly sliced 5p
6 walnuts crushed 7p

Warm a pan and heat a splash or two of oil. Add the garlic and ginger along with the carrot and sauté for 2 or 3 minutes. Stir in the rice and add 2 tablespoons of water cover and simmer for a few minutes. Bring a small pot of water to the boil. Add the greens to a steamer basket and steam until bright green. Place the greens on a plate top with the stir fry and garnish with the crushed walnuts. Finish your meal with a cup of hot water and a slice of lemon.
TOTAL SPEND ON DINNER 35p
Evening Meal Day Four
Grain Burgers with French Fries
50g cooked brown rice 15p
1 carrot, grated 2p
½ onion finely diced 5p
¼ tsp turmeric & paprika, sea salt 1p
1 heaped tbsp flour 1p
1 potato 7p
1 tbsp mayonnaise 2p
Preheat the oven to 180/360. Mash grain in a large bowl along with the onion and carrots then add the herbs and salt. Add 1 heaped tablespoon of whole-wheat flour and press the mixture together with a wooden spoon. Wet your hands and take a heaped tablespoon of mixture and form into burger shapes. Place on a lined baking sheet and cook for 10-12 minutes either side until crisp and golden.
French Fries – Preheat oven to 225/450oF
Slice potato lengthwise into half inch-thick slices. Cut the slices into half inch-thick spears just like French fries. Season with salt and dried herbs. Spread evenly in a rimmed baking sheet, avoiding overlap and bake, uncovered for about 25 minutes, until browned and crisp, stirring occasionally to ensure even browning. Add a little water if the potatoes are drying out too much. Remove from oven and toss with a light seasoning of salt if desired.
TOTAL SPEND ON DINNER 35p
Evening Meal Day Five
Rice Pilaf
50g cooked brown rice 15p
Pinch of sea salt 1p
½ cup of chopped onions 5p
½ cup chopped mushrooms 5p
2 tbsp minced fresh parsley 1p
Spring Greens thinly sliced 5p
1 Carrot cut on the diagonal 2p
In a large pan, warm a splash or two of water and sauté onions and mushrooms with a pinch of sea salt. Add the cooked rice, cover and cook for 2 to 3 minutes. Fluff with a fork and sprinkle with parsley. Bring a small pan of water to a boil, pop in the carrots and steam for 5 minutes – add the sliced greens and steam until bright green, 2-3 minutes. Serve as a base with the rice pilaf piled high on top.
TOTAL SPEND ON DINNER 35p
WATER
Drink eight glasses a day. Water is a natural appetite-suppressant. Water is the cheapest, simplest way to curb appetite and keep your body functioning properly. 'If you're dehydrated, your metabolism will slow down,' Add slices of lemon, lime, cucumber, fresh ginger or a few drops of juice to make it more appealing. Water is the only vehicle to remove toxins from your system, it's a must.
Try adding a few drops of lemon and ginger juice to a morning cuppa of hot water. In the evening have a cup of hot water, your body and skin will love you for it. Simply drink water throughout the day to keep hydrated. My hot beverage for the 5 mornings and evenings was one cup of hot water with a slice of lemon. It's important to really shop around and look for the best 'bargains' at your local supermarkets. I found three different prices for a 500g bag of short grain brown rice ranging from £1.89 to £1.29.
We are all here to help each other. Sharing is caring so, please pass these recipes to any who would benefit from them.