Ginger & Orange Oatmeal Raisin Cookies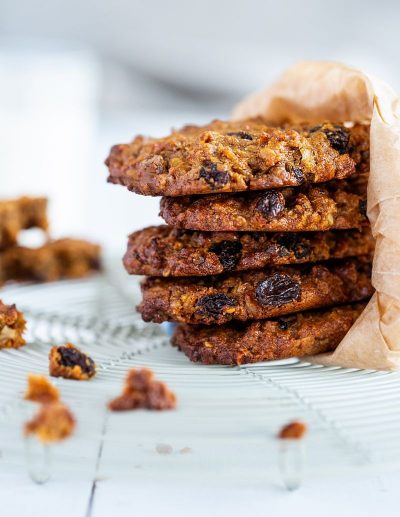 Who says you can't have your cake and eat it? Not me. Welcome to the world of MACROVegan guilt free desserts! All the recipes you will find in my latest book Go Vegan have passed the test with discerning dessert aficionados. Most people are seekers of sugar. The 'sweet' taste receptor is right there on the tip of the tongue and cries out for satisfaction. I want to show you how to satisfy this craving with healthy treats.
All of my cookies and desserts use only natural organic ingredients and have great nutritional value. Some of the recipes are for every day enjoyment, such as the applesauce, the kanten or these delicious cookies, others are for special occasions. The day to day recipes in Go Vegan are doable even on a low budget. I personally like the simple apple and pear desserts but when we have family and friends for dinner it is great to make something special
I only use organic fair trade ingredients that are kind to the soil, the planet and do not involve food slavery. Please be conscious of where your ingredients come from. Here is my husband Bill Tara's favourite cookie I created for him.
Ginger & Orange Oatmeal Raisin Cookies
These are a really wholesome treat, lower in fat and sugar than most shop-bought biscuits and packed with oatmeal and raisins for extra nutrients and flavour. Many of my cookies incorporate fruit and spices, rather than extra sugar and fat. I decided to share this recipe as it is Bill's absolute favourite.
Ingredients:
1½ cups oatmeal
¾ cup wholewheat pastry flour
¾ cup unbleached white flour or almond flour
1 tsp baking powder
¼ tsp sea salt
¾ cup currants
1 cup walnuts, toasted and coarsely chopped
2 tbsp apple butter
½ cup barley malt or brown rice syrup
Zest of 1 orange
½ cup orange juice
1 tbsp finely grated fresh ginger juice
1 tsp vanilla
Preheat the oven to 170°C (340°F), gas 4. Line two baking trays with parchment paper. In a large bowl, mix the dry ingredients. In a smaller bowl, whisk together the wet ingredients and then stir into the dry ingredients. Transfer heaping tablespoons of dough to the baking sheet, leaving at least 1 inch (2 cm) of space between the cookies. Flatten the cookies with the back of a fork to make rounds. Dip the fork in water to keep the mixture from sticking. Bake the cookies until the edges and undersides are golden, 20 to 25 minutes. Remove from the oven and allow to cool on a rack. Makes 16–18 cookies.
Note – Apple butter is a highly concentrated form of apple sauce produced by long, slow cooking of apples with cider or water to a point where the sugar in the apples caramelises, turning the apple butter a deep brown. The concentration of sugar gives apple butter a much longer shelf life as a preserve than apple sauce.
When you start cooking my recipes you will see that I always recommend a diet of wholefoods. Enjoy good health daily, invest in my book and some time in your kitchen.
As always, please share our work with family, friends and colleagues.
In good health

Corporate Health & Wellness Team Building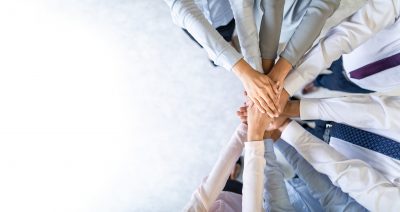 As a firm believer that in order to be productive & exceed in our roles, we need to have strong mental & physical health now more than ever! With that in mind Bill and I have been invited to present a series of different mental & physical wellbeing activities to some forward thinking companies who embrace the idea, 'One Team One Goal' - Our first online presentation covers the importance of a healthy diet for gut maintenance. With the world we live in right now it's critical to improve our immune system to stay healthy.
There is no silver "bullet" that solves all problems, or any long-term result without commitment. We are most interested in working together with you to develop a plan of action specifically suited to the needs of you and your staff. The goal of the Corporate Well-Being Programme is to significantly improve the health and vitality of those enrolled. Participants will receive information and practical training in ways to improve their nutrition, fitness levels, mental health and vitality using techniques that are easy to follow and that produce timely results. My husband Bill Tara and I have 90 years combined experience teaching around the world. As international authors and health counsellors our clients range from European royalty, lawyers, bankers and many from the movies and arts.
Understanding Nutrition and Weight Control
Eating well is the most important single factor in good health and often the most challenging. We feel it has been made too complicated. The answers to healthy living do not reside in counting calories or following the latest weight loss programme – they lay in common sense. Bill and I have adapted the principles of ancient Asian wisdom with nutritional science to arrive at an approach to eating that considers personal preference, environment, physical habits and personal health goals.
Health is a dominant factor in our life. Health can allow us to fully express our potential, enjoy the simple pleasures of life and make us more resilient to physical and emotional stress. Health is often described as a state of balance but balance with what? The word homeostasis is sometimes used meaning a state of dynamic balance between ourselves and our environment.
Ancient Wisdom for Modern Times
Our increased scientific knowledge and the traditional wisdom of many cultures shows us that the key to good health starts in the gut. Our intestinal tract contains the internal environment of the gut biome. It is here where the nutritional components of the external environment go through the processes of digestion and absorption. This is governed by the 100 trillion micro-organisms in the gut. It is in this internal environment where the most intimate contact between us and the outer world take place. We control this community of cells through our daily food.
A major function of the gut biome is immunity. In the biome, the immune system can "practice" and develop the resistance to pathogens that may enter the body. In light of the increasing dangers for viral disease, the building of a healthy gut biome MUST be a priority for good health.
Personal Potential Maintenance
Once you are on our client list, we can provide you with refresher programmes that will better assure that the good work done is not wasted. We suggest monthly refreshers with the integration of new material to keep participants engaged. This can include online cooking classes, personal health questions and answers from your team and a host of other valuable presentations delivered on many topics.
Corporate Anti-Stress Programme
While there is no way to totally eliminate stress from our lives, anyone can learn simple techniques to reduce its harmful effects. It has been shown that simple physical and mental exercises can significantly reduce stress and increase mental acuity.
Our Anti-Stress programme teaches participants practical ways to relax, renew and unwind in a short time both in the office and at home. Your staff will learn how to overcome the tensions of the day and focus their attention on their work rather than on what's not working.
Client Testimonial
"Wellbeing of staff both mentally & physically should be the most important factor for any organisation. As part of our Wellbeing theme we chose to work with Marlene to run a very informative session for our UK team. Her decades of experience and unique skills along with her 'can-do' vibrant personality made the experience not only educational but fun. Learning how to eat right for maintaining a healthy gut is critical now more than ever. The whole team enjoyed the session and it was a start to a transformational journey for many of us …
As leaders in any organisations you should know that your employees are the greatest asset, and looking after their wellbeing should be every leaders no.1 priority."
Exasol UK Limited
Farah Brown | Head of Sales UK, Ireland, Nordic, CIS & MEA
We have received other wonderful feedback from companies and look forward to sharing our work with many more. Please contact me for details and courses.
In good health

Rice And Arsenic, Is It A Problem?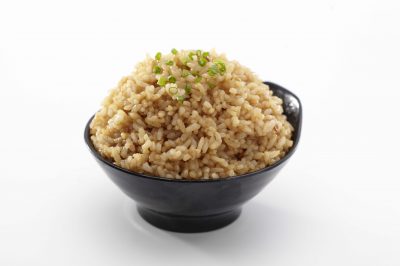 It is always interesting to dig deeper into the many stories that swirl around nutritional studies. There is always some new insight into the miracle properties of an individual food, vitamin or mineral that is the secret to long life and health. The same is true with horror stories of food toxicity. All these reports are said to be a result of exhaustive scientific studies and are instantly picked up by the popular press and sensationalized. The truth is often buried in the process.
Months ago, there were a series of headlines generated out of a report in Consumers Report warning of the dangers of eating rice. The threat was that rice was polluted with arsenic. Arsenic!! Damn - that's a fatal poison. We don't want that in our food.
As is often the case, the issue was more complicated and much less sensational when we dig deeper into the fact. What emerges is a far more interesting story that implicates many environmental issues, misrepresented science, sensational use of simple science and an insight into the limits of myopic science. Some helpful links are below so you can get a well-rounded vision of why good quality brown rice is still an excellent choice as a healthy food for all seasons.
John McDougall MD our friend and colleague, explains in great detail the nutritional value of this inexpensive, high-energy, health-promoting staple.
The second excellent article is by Julia Ferre, for Macrobiotics Today
https://ohsawamacrobiotics.com/images/earticles/Arsenic-in-rice.pdf
And the third article another good source from Alex Jack
https://www.9starki.com/arsenic_report.htm
So, why pick on rice?
"Rice contributes 17 percent of dietary exposure to inorganic arsenic, which would put it in third place, behind fruits and fruit juices at 18 percent and vegetables at 24 percent" Still rice has become the "must avoid" food. Consumers Reports, November 2012 - And, there is arsenic in fruit juices too.
Short grain brown rice is our daily staple, has been for decades. Delicious, nutritious, top drawer food for health and longevity.
In good health