Baked Tofu Nuggets with Creamy Dip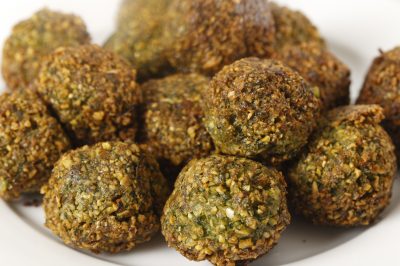 Soy has long been recognized as a nutrient-dense food and as an excellent source of protein. The soybean contains all of the essential amino acids, as well as an impressive list of micronutrients (vitamins and minerals).
Micronutrients in rich supply in soy include: calcium, iron, magnesium, manganese, phosphorus, potassium, vitamins B1, B2, B3, B5, B6, B9, C and zinc. Fibre and omega-3 and 6 fatty acids are also present in soy. The composition of these nutrients varies among preparations but is in the highest quantity in fermented soy foods such as miso, tempeh, natto, and whole soy foods such as edamame (whole soy beans), soy milk and tofu.
Lessons from Asia
Soy has been a major staple in Asian cultures for centuries, and their incidence of coronary artery disease, hypertension, ischemic stroke, hormone-dependent cancers, osteoporosis, postmenopausal hip fracture, diabetes, and obesity are all markedly lower than what is seen here in the West. However, when sectors of these populations begin to consume foods based more on the Western diet, not surprisingly, their patterns of disease begin to mimic ours as well.
The terms 'vegan' and 'plant-based' were not yet widely in use, yet there was at least recognition of the association between geographic variability in diet, and health conditions. In 1990 the human genome project commenced and was completed in 2003. The connection that independent of the mass of genetic information all humans share, how we live and what we eat will have a huge and direct impact on our health. Ancient wisdom rocks my world. My love of teaching the 5 elements from TCM and Macrobiotics has always made complete sense to me.
We use tofu in miso soup, sauces, desserts and burgers. This simple offering below from the power packed soy bean is delicious, healthy and takes only minutes to prepare.
Quick and Easy Recipe
1 pack organic soft tofu
1 large carrot, grated
1 tbsp. shoyu
1 tsp. mustard
1 tsp. Herbs de Provence
1 tsp. onion granules
1 tsp. garlic granules
2 tbsp nutritional yeast
2 tbsp black sesame seeds
¼ tsp. turmeric
½ cup ground almonds
½ cup sourdough breadcrumbs
¼ cup fresh coriander, minced
Place the tofu in a large bowl and mash with a fork. Preheat the oven to 200/400°. Add the remaining ingredients and mix well. Stir the mixture until it is cohesive and forms a big ball. Pinch of a piece at a time and roll into small balls. Place the balls on a parchment lined baking sheet, and cook for 20-25 minutes until crisp and golden. Serve with some fresh salad leaves and cashew cream dip.
Creamy Cashew Cheese Dip
1 cup cashews
½ cup filtered water
¼ tsp. sea salt
1 tsp. umeboshi vinegar
Juice of one lemon
2 tbsp. nutritional yeast
Soak the cashews overnight in filtered water. Discard the water and put the nuts in a high-speed blender with the remaining ingredients. Blend until smooth and creamy add more water to achieve desired consistency. Chill for a few hours to develop the flavour. The mixture will thicken as it stands.
Going Vegan is easy, it makes my heart sing to see this movement growing around the world. Please support our work to help spread our educational programmes to every corner of the globe. Our latest books are available world-wide. How To Eat Right & Save The Planet and Go Vegan.
In good health