Butternut Squash Pear Bisque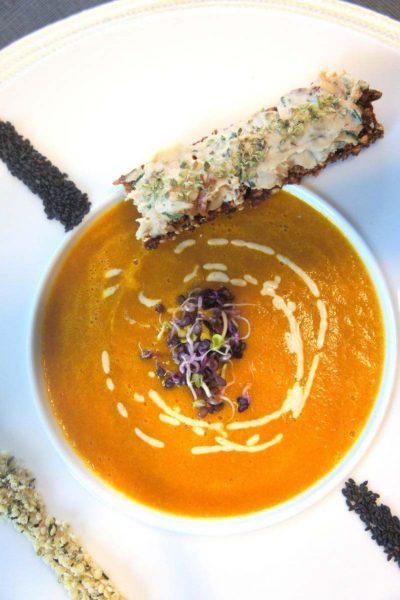 This sweet soup is so delicious made with a combination of fresh organic vegetables, fresh pears and coconut milk. An absolute treat and loved by all my clients and students.
Ingredients
¼ cup filtered water
2 medium leeks, white and tender green parts finely chopped
1 small butternut squash peeled and cut into 1-inch pieces
3 pears, peeled, cored, and cut into 1-inch pieces
5 cups miso bouillon stock
Pinch sea salt
1 14-oz. can organic coconut milk
(reserve 2 tbsp. for garnish)
1 tsp. chopped fresh thyme
Fresh sprouts and coconut milk for garnish
Instructions
Make the stock by adding the miso bouillon sachet to five cups of hot water, set aside. Heat the ¼ cup filtered water in a soup pot over medium-low heat. Add leeks, and cook 10 minutes, or until soft, stirring often. Add squash and pears, and sauté 5 minutes. Stir in the bouillon and bring to a boil. Reduce heat to medium-low, and add salt, if desired.
Simmer 20 minutes, or until squash is fork-tender. Remove from heat and stir in coconut milk. Purée the soup in a blender or food processer, blend until smooth. Return soup to saucepan and stir in thyme. Reheat over medium-low heat 2 to 3 minutes, or until warmed through. Serve garnished with the fresh sprouts and coconut milk.