Caramelized Roasted Sweet Butternut Skewers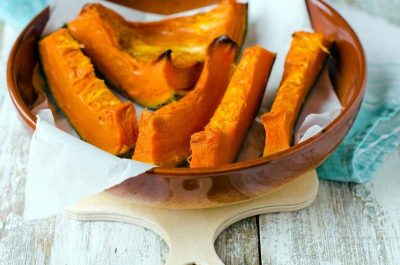 Butternut squash tastes so good when you simply toss it with your favourite herbs, some sea salt, roast it with garlic and serve as a delicious side dish. Soups, casseroles, and stews all made with sweet and golden butternut squash. You'll love how it tastes in muffins, pies, risottos, and pasta dishes, too.
Ingredients
1 large organic butternut squash
½ tsp. sea salt
½ tsp. dried rosemary or thyme
Instructions
Preheat the oven to 180/350°. Peel the squash, cut in half and remove the seeds. Cut the squash into equal size slices or bite size pieces. Put the pieces in a large bowl and mix well with the salt and herbs, covering each slice. I prefer to use my hands to do this. Transfer to a parchment lined baking sheet. Make sure the pumpkin pieces do not overlap. Bake for 20 minutes and remove from the oven. Turn all the slices over and bake on the other side for equal amount of time. The sugars will be released, and the slices will start to caramelize. When cool enough to handle, insert the pumpkin pieces onto a wooden skewer. Serve as a side dish or atop rice and beans.