Marlene's Chocolate Chip Cookies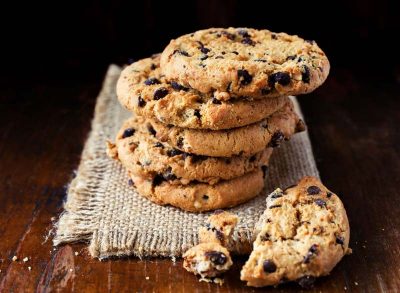 These cookies are the pinnacle of perfection! If you want a delicious chewy cookie bursting with flavour then these are the cookies for you. This recipe is so simple and kids love making them at my Tasty Tips For Kids Class. Enjoy.
Ingredients
3 cups blanched almond flour
½ teaspoon sea salt
½ teaspoon bicarbonate of soda
½ cup chopped pecans or other nuts (optional)
½ cup safflower oil (substitute ¼ cup applesauce)
½ cup rice syrup
1 tsp. vanilla extract
½ cup grain sweetened dairy free chocolate chips
Instructions
Combine dry ingredients in a large bowl. Stir together wet ingredients in a smaller bowl. Mix wet ingredients into dry. Pinch off a piece of the mixture and form into small balls and press onto a parchment lined baking tray. Bake at 180/360° for 10-12minutes. Cool on a rack and serve. Store in an airtight container.