My Rainbow Salad Is Easy To Create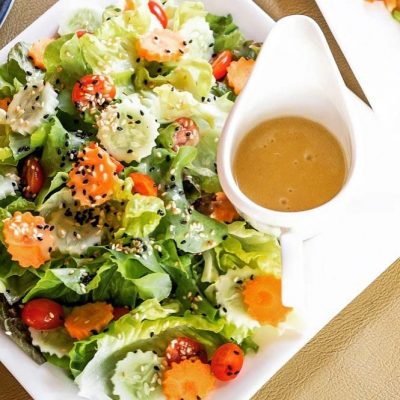 I made this dressing for a T.V. show I presented at and it was a winner with the crew. This dressing is just perfect over grains, salads or vegetables, tempeh or tofu dishes.
Ingredients
Fresh crisp salad leaves like baby gem or iceberg torn into pieces
Carrot
Cucumber
Black sesame seeds
For THAI DRESSING
½ cup organic tahini
1/8 cup freshly grated ginger juice
1/8 cup rice malt syrup
3 tbsp. lemon juice
3 tbsp. tamari
1 large clove garlic
½ cup shredded coconut
1 cup water (to start with)
Instructions
Rainbow Salad
Using a tool called a channel (available from kitchen shops) take the carrot and cucumber and make 4 channels around the length of the vegetables. This will then create the shape in my picture attached. Lay out the salad greens on a white plate, decorate with the shaped vegetables, pour over some of the Thai dressing and sprinkle with black sesame seeds.
Thai Dressing
Blend all ingredients together in a high-speed blender. Store in a glass sealed jar in the refrigerator. Add required water for your desired consistency. The dressing will thicken as it stands so thin as necessary each time when using.