Red Lentil Soup with Ginger & Squash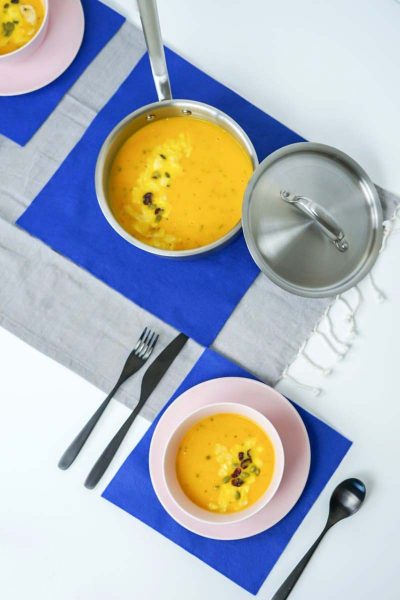 Lentils are consumed in many ways. They can be eaten soaked, germinated, cooked, fried and baked. The most common preparation method is cooking. The seeds require a cooking time of 10 to 40 minutes, depending on the variety; shorter for small varieties with the husk removed, such as the common red lentil.
Ingredients
1 onion chopped
1 clove garlic crushed
2 inches fresh ginger peeled and grated
2 cups butternut squash peeled and cubed
2 cups miso bouillon stock or vegetable stock
½ cup red lentils
Tamari to taste
To Garnish
Roasted pumpkin seeds
Flaked almonds
Dried Cranberries
Instructions
Warm a splash of water in a soup pot, add the onion and garlic and sauté until translucent. Add the ginger and squash, and sauté for 5 minutes. Add the stock and lentils. Bring to a boil, then reduce the heat, simmering for 15-20 minutes or until squash is cooked.
With a hand blender or food processor, blend until smooth. Return the soup to the pot and season to taste with a little tamari.
Garnish with the pumpkin seeds, flaked almonds and dried cranberries.