Sesame Crusted Baked Tempeh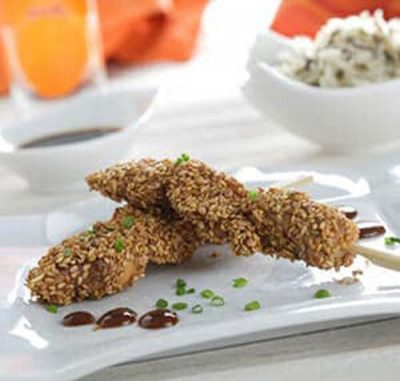 Tempeh is a traditional soy product originating from Indonesia. It is made by a natural culturing and controlled fermentation process that binds soybeans into a cake form. Tempeh is the only major traditional soy food that did not originate from Greater Chinese cuisine.
Ingredients
200g pack tempeh
2 tablespoons shoyu sauce
2 teaspoons hot sauce like Sriracha (optional if you like a hot taste)
2 garlic cloves, minced,
1 teaspoon fresh grated ginger juice
Juice from one lemon
2-3 tablespoons sesame seeds
Instructions
Preheat the oven to 190/370deg. Slice the tempeh into 1/4-inch-thick pieces and set aside. In a small bowl, combine the shoyu, hot sauce, (if using) garlic cloves, ginger and lemon juice. Whisk to combine the liquid ingredients. Transfer the tempeh pieces to a large, zip-closed bag and pour in the liquid. Gently massage the tempeh slices with your hands to coat all the pieces. Refrigerate for 30 minutes. Add the sesame seeds to a shallow bowl. Remove the tempeh from the marinade. Dip each side of each piece of tempeh in the sesame seeds and set on a baking sheet lined with some parchment paper. Bake for 10 minutes, turn over and bake ten minutes on the other side until crisp and golden.