Spring Salad with Zesty Lemon Dressing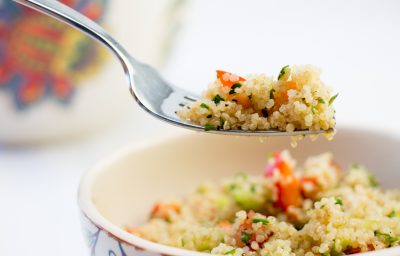 Spring for me is the most beautiful time of year. I adore watching the beautiful snowdrops peep through in early February. There used to be many lovely gardens on my walk to school, and I am sure the neighbours did not begrudge me a few wee snowdrops to press into my beloved schoolbooks. Then the crocuses would shoot up with the most beautiful vibrant yellows, purples, and white and blues that filled my world with colour.
When you are a child, everything seems so big and awesome, and for me the daffodils around Easter time were the crème de la crème. Big, beautiful, bright heads of sunshine blowing in the wind in various shades of yellow, sitting below the incredible beauty of the apple blossom trees that lined the streets and avenues in shades of white and pink, would
tell us that summer was just around the corner.
Put A Spring In Your Step
Spring is such a wonderful time of year, with new buds on the trees and shrubs, and everything coming alive again from the dormancy and hibernation of winter when it seems like the world is asleep. Well, nature has been asleep, resting, but then comes back in fullforce to fill our lives with colour. How clever, what a life plan, what a creation.
Spring is the time of year when the liver and gallbladder present themselves for an annual service. The flavour most often associated with this season is the sour taste, and the relevant vegetables are fresh new-growth greens. Particularly bitter greens such as spring greens, dandelion, endive, radicchio, collards and arugula. These are foods that are seen to promote a gentle cleansing of the liver. Yes, this is the time of year when your body really wants to detox naturally.
It is the taste of sour foods that nourishes the Liver-Gallbladder system: lemons and limes, umeboshi plums, sourdough bread, as well as fermented foods such as pickles, sauerkraut and vinegars.
Spring Salad with Zesty Lemon Dressing
1 cup quinoa
1 1/3 cup water
Pinch sea salt
½ cup spring onions, finely diced
1 carrot, grated
½ cup sweet orange roasted pepper, chopped
1 cup chopped walnuts
1 cup chopped cucumber
1 apple, peeled and chopped
¼ cup chopped mint leaves
2 tbsp shelled hemp
2 tbsp fresh coriander, chopped
2 tbsp fresh mint, chopped
2 tbsp fresh parsley, chopped
To Serve
Fresh mixed salad greens
Dill Pickles
½ cup toasted pumpkin and sunflower seeds
Wash the quinoa and drain, place in a heavy-based pan with the water and sea salt. Bring to a boil. Cover the pan and reduce the heat to low so that the contents simmer until all the liquid has been absorbed, approximately 15 minutes. Remove from the heat and keep covered for a further 15 minutes. Transfer the quinoa to a large mixing bowl and allow to cool. Add the remaining ingredients. Drizzle the lemon dressing over the salad and stir in.
Zesty Lemon Dressing
1 tsp umeboshi plum vinegar
2 tbsp freshly squeezed lemon juice
Zest of half a lemon
¼ cup ground almonds
¼ cup nutritional yeast
¼ cup filtered water
1 clove garlic, minced
½ tsp. Dijon mustard
1 tbsp. tamari
Blend all the ingredients in a high-speed blender, add more water if desired for a thinner consistency.
You will find over 80 delicious and easy recipes in my latest book Go Vegan. Thank you for your support of our work.
In good health