Summer Quinoa Salad with Sweet Maple Dressing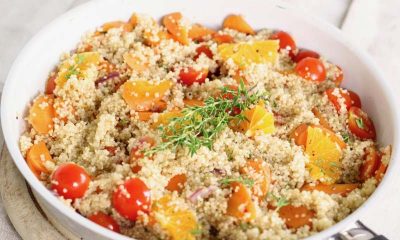 Quinoa Chenopodium quinoa; is a flowering plant in the amaranth family. It is a herbaceous annual plant grown as a grain crop primarily for its edible seeds. Quinoa is not a grass, but rather a pseudocereal botanically related to spinach and amaranth.
Ingredients
1 cup yellow quinoa
1 1/3 cups filtered water
6 cherry plum tomatoes halved
1 small red onion diced
1 spring onion diced
Pinch sea salt
1 yellow pepper, diced
1 large peach
2 tangerines or mandarins
Sauce
2 tbsp. rice mirin
2 tbsp. maple syrup
1 tbsp. lime juice and zest of one lime
1 tsp. garlic, crushed
1 tsp. fresh ginger, minced
Garnish
Fresh thyme
Instructions
Rinse the quinoa well under running water. Put the quinoa and water in a heavy-based pan and bring to a boil, cover, then reduce the heat and cook on low for 12-15 minutes. Switch off the heat and allow the quinoa to continue to steam for another 10 minutes.
In a small bowl mix the sauce ingredients together and set aside allowing the flavours to develop. Sit the peach in boiling water for 30 seconds to remove the skin. Peel the tangerines or mandarins and separate into wedges. In a large bowl, combine all the ingredients together then fold in the dressing. Garnish with some fresh thyme.