Tahini Sauce for Salads, Vegetables and Wraps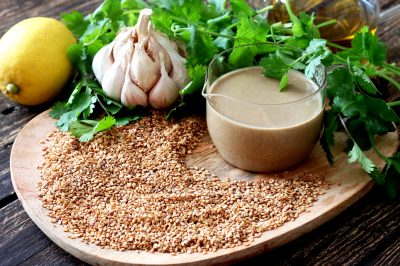 I am currently working my way through some delicious dressings and as always, inspired by what nature offers us. The simple creations that I am teaching our students shine on so many levels. Such versatility with robust flavours are quite frankly loved by all.
Tahini paste is made from crushed sesame seeds and has quite a nutty taste. It is available in jars from regular supermarkets. There are two main types of tahini, hulled and unhulled. Hulled tahini does not grind the whole sesame seed and because of this it does not contain as much calcium, protein and vitamins as unhulled. Unhulled tahini is made from the whole sesame seed and it the most nutritionally packed type of tahini. Hulled tahini is not as bitter tasting as the unhulled type. Raw tahini contains more nutrients than roasted tahini.
Rich in Nutrients
Tahini is a source of calcium, protein and B vitamins. Tahini is a good source of essential fatty acids (EFA), these EFA's are used in helping to maintain healthy skin. Because one of the ingredients in tahini is sesame oil it has quite a high calorie content so should be used in moderation if weight problems are an issue. The good news is the majority of fats in tahini are unsaturated rather than saturated. Tahini is a source of vitamin E which helps to reduce the rate of ageing in body cells. Sesame seeds are also a good source of the amino acid Methionine. Methionine is an important contributor to liver detoxification and helps with the absorption of other amino acids.
I use tahini in dressings, desserts, spreads and have been known to eat it straight from the jar!
This is a very simple and tasty recipe to make with some fresh basil leaves and it's one of my absolute favourites. Delicious served over my crisp baked tofu bowl. Enjoy.
Basil Infused Tahini Sauce
4 cloves roasted garlic
½ cup sesame tahini
2 tbsp. sweet white miso
1 tsp. umeboshi paste
Juice of one lemon
3/4 cup water, more as needed for desired consistency
1/4 cup finely chopped fresh basil leaves
Blend all the ingredients in a high-speed blender to achieve a creamy consistency.
You will find 85 delicious recipes in my latest book Go Vegan, available world-wide.
Please Join Bill and I in service for a healthy world for humans and nonhumans alike. Thank you.
In good health