Tofu & Blueberry Dessert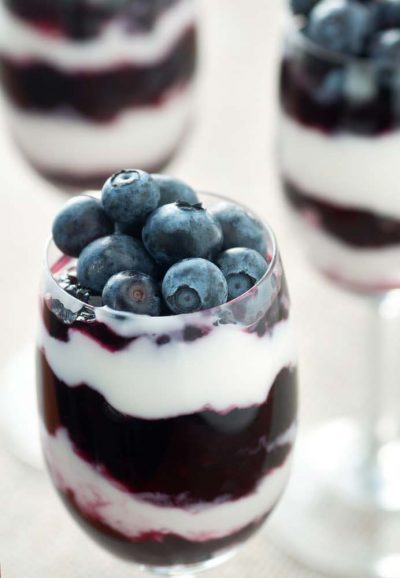 There are two main types of tofu available: silken and hard. Silken tofu is produced by coagulating soya milk without curdling it and is normally available in two consistencies: soft and firm. Clearspring organic tofu falls in the latter category. Both are however more creamy, smooth and delicate than hard tofu which is drained and pressed and therefore more robust. Clearspring Tofu makes delicious creamy desserts and sauces.
Ingredients
Tofu Cream
1 pack Clearspring silken tofu
¼ cup cashew nuts
1/3 cup Clearspring Rice Syrup
1 ½ tsp. vanilla extract
1 tsp. lemon juice
Blueberry Sauce
4 cups fresh blueberries(use frozen if not in season)
1/3 cup rice syrup or maple syrup
1 tbsp. lemon juice
2 tbsp. kuzu
Instructions
Make the Tofu Cream as Follows
Drain the liquid from the tofu. Whip all ingredients together in a blender until very smooth. Refrigerate at least two hours before serving.
Make the Blueberry Sauce as Follows
Set aside one cup of the blueberries for topping the dessert. Place the remaining three cups of blueberries in a pot with the rice syrup and lemon juice. Dissolve the Kuzu in two tablespoons of water and add to the pot. Bring to the boil and simmer on low heat for five minutes. Stir in the Kuzu and simmer until the mixture starts to thicken. Transfer to a blender and blend to a cream. Pour into a bowl and allow to cool. Chill in the refrigerator for at least two hours.
Using pretty glasses, layer some blueberry sauce in the bottom of the glass and tofu cream on top. Continue this process of layering until the glass is full and then top with some of the blueberries to garnish.