Warming Lentil Stew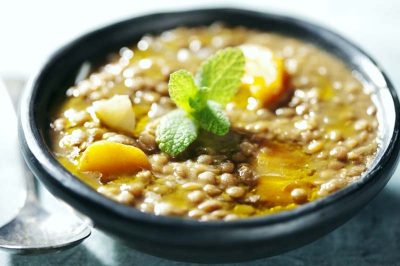 Lentils are the oldest pulse crop known, and among the earliest crops domesticated in the Old World, having been found as carbonized remains alongside human habitations dating to 11,000 BCE in Greece. The origins of lentils are in the Near East and Central Asia.
Ingredients
2 cups peeled butternut squash cut into bite size cubes
3 shallots, thinly sliced
1 large clove garlic, crushed
3 cups cooked brown lentils
1 tbsp. organic tomato paste
1 cup thinly sliced celery
2 cups thinly sliced carrots
1 tsp. dried rosemary, chopped
¼ cup dried porcini mushrooms, soaked in a little water and thinly sliced
4 cups miso bouillon stock or vegetable stock
¼ cup fresh parsley, minced
1 tsp fresh lemon juice
1 tsp fresh ginger juice
Shoyu to taste
Instructions
Preheat the oven to 200/400deg. Place the squash on a parchment lined baking tray, add a few drops of olive oil and sprinkle with sea salt, a sprinkling of dried rosemary or thyme and bake for 20-30 minutes, until the edges are crisp. Remove from the oven and set aside.
Saute shallots and garlic in a little stock or water then add the lentils and 1 tbsp. organic tomato paste and cook for 5 minutes. Add celery and carrots, fresh thyme, rehydrated mushrooms (discard the soaking water) and the stock. Bring to a boil and simmer for 20 minutes until vegetables are soft. Stir in the fresh parsley, lemon juice and ginger juice. Add shoyu to taste, approximately one tablespoon is adequate. Stir in the baked squash and serve in warmed bowls topped with some fresh herbs.