Chewy Fruit & Nut Bars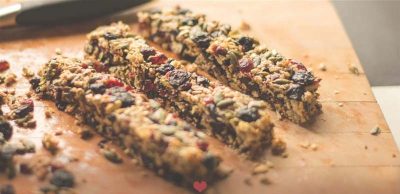 These homemade fruit and nut bars are a refreshing alternative to packaged granola bars. Be sure to use organic fruits, nuts and seeds for optimal health and incredible flavours.
Ingredients
1 cup rolled oats
1/2 cup almonds
1/2 cup pecans
4 dried figs
6 mejdool dates
1/4 cup dried cranberries
1 tbsp. lemon zest
1/4 cup choc chips, chopped (optional)
1/4 cup pumpkin seeds
1/4 cup shelled hemp
1/4 cup almond or peanut butter
1/4 cup maple or rice syrup
Instructions
Toast the oats in a heavy based pan over a low heat until golden brown. Stir often to prevent burning, this takes around 8 - 10 minutes. Transfer to a large bowl. Place nuts, figs and dates in a food processor. Process until a sticky mix is achieved. Add to the bowl of toasted oats along with the lemon zest and dried cranberries, choc chips, pumpkin seeds and shelled hemp. Melt the almond or peanut butter along with the maple syrup over a low heat. Stir into the bowl and mix well. The mixture needs to remain cohesive.
Transfer the mixture to a wooden cutting board and form into an 8 x 8 square. Set in the fridge for 30 minutes. Cut into bite-size bars and enjoy.