Kale Crisps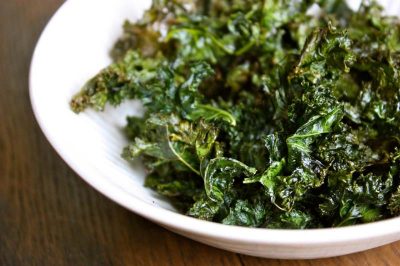 Kale is rich in Vitamins A, C and K plus calcium, iron and protein, this is one snack that I make constantly. Delicious also as a side with bean soups and stews.
Ingredients
1 Bunch Kale, stems removed
Sea Salt
Garlic Powder
Nutritional Yeast
Ginger Powder
Instructions
Preheat the oven to 180C/360°. Remove the stems of the kale and tear the leaves into medium size pieces. Place on a parchment lined baking tray and sprinkle generously with garlic powder, sea salt nutritional yeast and ginger powder. Massage the kale to coat all leaves. Bake for about 8-10 minutes until crispy, turning the pan every 5 minutes and watching carefully that the edges don't burn.
This makes for a great snack and is also super to serve these kale crisps with soups and salads.